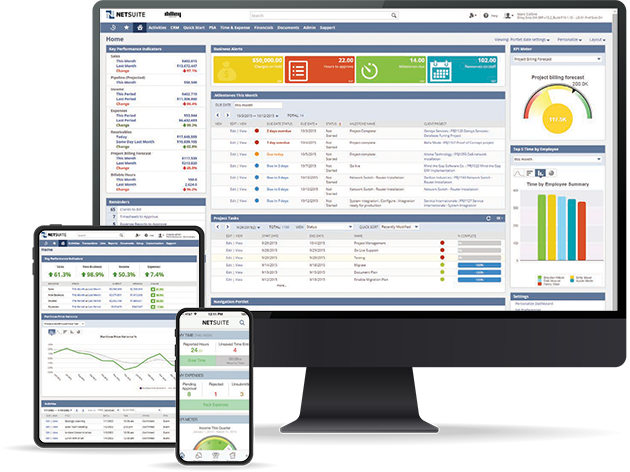 Strategy, Implementation, & Optimization​
As a NetSuite Solution Provider, we adhere to industry standards, implement best practices, and provide reliable consultants to cater to your unique business needs.
We don't take on more than we can handle and truly want to deliver customized solutions in each company's best interest. We believe in quality over quantity.
Haven't found what you were looking for?
Contact Us for a personalized solution
Implementation & Automation
We will design scalable NetSuite solutions that drive efficiency and effectiveness for your business. We provide intensive NetSuite training to our clients, designed to help your team become a group of effective NetSuite users.
Our team's expertise, along with our proven methodology and project management approach, is a combination businesses can rely on during the Oracle NetSuite implementation process.
Analyze – Define existing processes, validate data sources, identify process gaps and document requirements.
Configure – Configure NetSuite based on requirements. Plan migration and testing activities.
Deploy – Iterative, integrated testing of go-live procedure. End user training. Data migration and cutover execution into Production.
Optimize – Transition to ongoing operations and definition of future phases.
Training – Train & Support staff to follow through processes correctly
Development
Our development team is not only fluent in the NetSuite environment with SuiteScript, but are also full stack developers. We can provide solutions in Node.js, React, Javascript, Web Scraping Automation with Puppeteer, MySQL, HTML/CSS We have built custom solutions for NetSuite and eCommerce automation tools.
SuiteScript
Workflows
SuiteQL
Javascript/ReactJS
Web Scraping Automation
Integration
With the explosion of business applications, companies can't afford manual data entry, management via spreadsheets and email, and fixing costly errors that comes with data silos. Celigo's iPaaS (Integration Platform-as-a-Service) is designed for IT professionals AND business users to quickly connect applications to automate business processes.
Our team has used Celigo to integrate many different platforms with NetSuite, including those listed below. This isn't an exhaustive list, so if you don't see the integration you're looking for, no problem! We've never met an integration we can't handle, especially with the help of platforms like Celigo.
NetSuite
Amazon
Shopify
BigCommerce
eCommerce
Ensuring any platform such as Amazon, Shopify, or WordPress is a viable sales channel for your business is not easy. We'll help you discover where you need to optimize, invest and become more efficient so you can begin to unlock growth and long-term profitability on such eCommerce platforms.
Our eCommerce Business Development team can assist in scaling your eCommerce channels through process enhancement, SEO optimization, and digital marketing. To run a profitable business on Amazon that scales, you must have dedicated people with operational knowledge of the Amazon platform working in harmony to optimize and manage every element of your eCommerce strategy.
Brand Protection
Business Strategy & Analytics
Performance Marketing
Supply Chain Logistics
Warehousing
Finance & Accounting
With experience in fractional CFO services, private equity, VC and M&A advisory, we can provide assistance with:
Advanced Financial Modules (Order-to-Cash, Procure-to-Pay, Record-to-Report)
Advanced Revenue Management and Revenue Recognition
NSPB (NetSuite Planning and Budgeting)
Advanced Reporting and Analysis
SuiteProjects and OpenAir Project Management
NetSuite CRM Sales Force, Marketing Automation and Customer Case Management
SuitePeople Payroll and HR Management
Operations & Manufacturing
With over 20+ years experience as a CEO and COO, one of our experts has a large range of experience from purchasing to supply chain management.
Our shared vision for growth starts with a methodology specifically designed for manufacturers and how they are structured. It mandates a strong alignment between company leadership to streamline how they bring products to market. Teams and processes become better organized so they can focus more intently on building customer value.
Ultimately, Suite Dynamix empowers manufacturers to outpace the competition and become more profitable.
Corporate Strategy – We can help you build or refine a corporate strategy that delivers growth and long-term value creation for your organization.
Sales Strategy – As B2B buying processes continue to change and the role of sales people continues to evolve along with them, we help build sales strategies to maximize the return on your direct headcount as well as empower your distributor sales partners to sell more effectively on your behalf.
Systems Strategy – Technology and systems continue to play a larger role in building value in manufacturing organizations. Developing a systems strategy that considers the needs of sales, marketing and product is essential to sustaining growth well into the future.